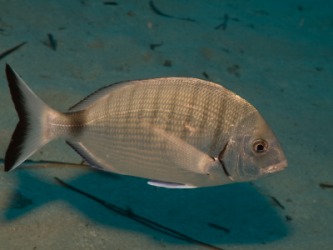 A close up of a white bream.
---
bream definition by Webster's New World
noun
pl. bream or breams
a European freshwater cyprinoid fish (Abramis brama)
any of various porgy fishes (family Sparidae)
☆ any of a number of freshwater sunfishes, as the bluegill
Origin: Middle English breme ; from Old French bresme ; from Frankish an unverified form brahsima: for Indo-European base see braid
transitive verb
Historical
to clean (a ship's bottom) by applying heat and then scraping
Origin: ; from uncertain or unknown; perhaps Dutch brem, furze (see bramble): burning furze was origin, originally used in process
Webster's New World College Dictionary Copyright © 2010 by Wiley Publishing, Inc., Cleveland, Ohio. Used by arrangement with John Wiley & Sons, Inc.
---
bream definition by American Heritage Dictionary
noun
pl.
bream
bream
or
breams
Any of several European freshwater fishes of the genus Abramis, especially A. brama, having a flattened body and silvery scales.
A similar fish, especially:

a. Any one of various saltwater fishes in the family Sparidae, such as the porgy.

b. Any one of various freshwater sunfishes of the genus Lepomis and related genera, such as the bluegill.
Origin: Middle English breme, from Old French, of Germanic origin.
transitive verb
breamed
,
bream·ing
,
breams
breams
Nautical
To clean (a wooden ship's hull) by applying heat to soften the pitch and then scraping.
Origin: From Middle Dutch brem(e), furze, broom.
bream
Variant of bream
noun
pl. bream or breams
a European freshwater cyprinoid fish (Abramis brama)
any of various porgy fishes (family Sparidae)
☆ any of a number of freshwater sunfishes, as the bluegill
Origin: Middle English breme ; from Old French bresme ; from Frankish an unverified form brahsima: for Indo-European base see braid