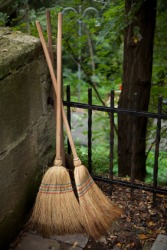 A pair of brooms with wooden broomsticks.
---
broom
noun
any of a group of flowering shrubs (esp. genera Cytisus, Genista, and Spartium) of the pea family, often grown for their abundant, usually yellow, flowers
a bundle of long, stiff fibers or straws (originally twigs of broom) fastened to a long handle, used for sweeping
Origin of broom
Middle English and amp; Old English
brom,
brushwood ; from Indo-European base an unverified form
bh(e)rem-
, to project, a point from source berm, bramble
transitive verb
to sweep as with a broom
---
broom
noun
An implement used for sweeping, usually consisting of a bunch of twigs, straw, or bristles bound together and attached to a stick or handle.

a. Any of various Mediterranean shrubs of the genus Cytisus in the pea family, especially C. scoparius, having mostly compound leaves with three leaflets and showy, usually bright yellow flowers.

b. Any of several similar or related shrubs, especially in the genera Genista and Spartium.
transitive verb
broomed
,
broom·ing
,
brooms
To sweep with a broom.
Origin of broom
Middle English, from Old English
brōm
.
Related Forms:
---
broom
---