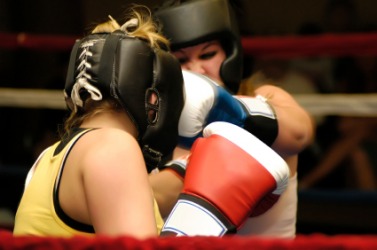 Two women boxing.
---
boxing
noun
the skill or sport of fighting with the fists
noun
the act or process of packing a box or boxes
a boxlike covering or casing
material used for boxes
---
boxing
noun
The act, activity, or sport of fighting with the fists, especially according to rules requiring the use of boxing gloves and limiting legal blows to those striking above the waist and on the front or sides of the opponent.
boxing2
Alexey Tishchenko of Russia (blue) and Hrachik Javakhyan of Armenia (red) at the 2008 Olympic Games
Beijing, China
---
boxing
---
boxing
Verb
Present participle of box.
Noun
(uncountable)
(sports) A sport where two opponents punch each other with gloved fists, the object being to score more points by the end of the match or by knockout, or technical knockout.
Origin
From box ("punch")
Noun
(plural boxings)
Material used for making boxes or casing.
(construction) Casing.
(programming) Automatical conversion of value types to objects by wrapping them within a heap-allocated reference type.
Origin
From box ("container")
---