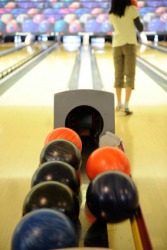 A woman bowling in a bowling alley.
---
bowling
noun
a game in which a heavy ball is bowled along a wooden lane in an attempt to knock over ten large wooden pins that are set upright at the far end
lawn bowling
the playing of either of these games

Cricket

the act of throwing the ball to the batsman
---
bowling
noun
a. A game played by rolling a ball down a wooden alley in order to knock down a triangular group of ten pins. Also called tenpins.

b. A similar game, such as duckpins or ninepins.

Lawn bowling.
The playing of one of these games.
---
bowling
Verb
Present participle of bowl.
Noun
(uncountable)
A game played by rolling a ball down an alley and trying to knock over a triangular group of ten pins; ten-pin bowling
(New England) candlepin bowling
(cricket) The action of propelling the ball towards the batsman.
(slang) A particular style of walking associated with urban street culture.
(gerund) The action of the verb bowl.
(Ireland) road bowling
---