verb
The definition of blew is the past tense of to blow, meaning you pushed something using air from your mouth or something like wind pushed something forcefully.

An example of blew is what a little boy did to the candles on his birthday cake to make them go out.
An example of blew is what a hurricane did to the trees that were found uprooted in the yard.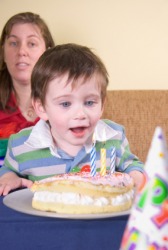 This little boy just blew out his candles.
---
blew definition by Webster's New World
intransitive verb
,
transitive verb
blow & blow
Webster's New World College Dictionary Copyright © 2010 by Wiley Publishing, Inc., Cleveland, Ohio. Used by arrangement with John Wiley & Sons, Inc.
---
blew definition by American Heritage Dictionary
blew
Variant of blow
intransitive verb
blew, blown, blowing
to move with some force: said of the wind or a current of air
to send forth air with or as with the mouth
to pant; be breathless
to make or give sound by blowing or being blown
to exhale air and condensed moisture from the lungs in a spout through the blowhole: said of whales
to be carried by the wind or a current of air: the paper blew away
to be stormy
to burst suddenly, as a tire, or melt, as a fuse: often with out
to lay eggs: said of flies

Informal

to brag; boast
☆

Slang

to go away; leave

Jazz, Slang

to improvise

Slang

to cease functioning, esp. by overuse: said of an engine, etc.
Origin: Middle English blowen ; from Old English blawan ; from Indo-European an unverified form bhlē-: see blast
transitive verb
to cause air to come from (a bellows, blower, etc.)
to send out (breath, tobacco smoke, etc.) from the mouth
to force air onto, into, or through
to drive by blowing

to sound (a wind instrument) by blowing
to make (a sound or signal) by blowing

to cool, warm, dry, or soothe by blowing on or toward
to shape or form (glass, soap bubbles, etc.) by blown air or gas
to clean or clear by blowing through: to blow one's nose
to cause to burst or break by an explosion
to cause (a horse) to pant
to lay or deposit eggs in: said of flies
to melt (a fuse, etc.)

Informal

to spend (money) freely or wastefully; squander

Informal

to treat (to something)
☆

Informal

to forget or fluff (one's lines) in a show
☆

Slang

to go away from; leave: he blew town
☆

Slang

to bungle and fail in: we had our chance and blew it
blowed

Slang

to damn: used in euphemistic oaths

Slang

to inhale (cocaine, marijuana, etc.)

Slang

to reveal or disclose, esp. so as to compromise: they blew our cover

Slang, Vulgar

to perform fellatio on

Slang

to cause (an engine, transmission, etc.) to cease functioning, esp. by overuse
noun
the act of blowing
a blast of air

Metallurgy

the blast of air forced through molten metal to remove impurities
the time or stage in metal refining in which the blast of air is forced through molten metal
the amount of metal that is refined during this time

a strong wind; gale
a boast

Slang

cocaine