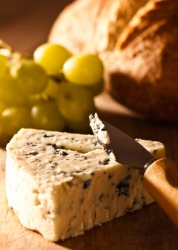 A wedge of bleu cheese.
noun
The definition of bleu cheese is the French spelling for blue cheese, a semisoft cheese.

An example of bleu cheese is a strong flavored cheese with blue mold running through it.
---
bleu cheese
---
bleu cheese
noun
Origin of bleu cheese
French,
blue
, from Old French; see
Blue
.
---
bleu cheese
Noun
(countable and uncountable, plural bleu cheeses)
Alternative spelling of blue cheese.
Usage notes
This spelling is not used in the UK.
Noun
attributive form of bleu cheese

bleu-cheese odor
---