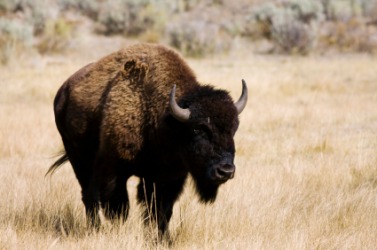 A bison in a field.
Licensed from iStockPhoto
---
noun
pl.
bison
any of a genus (Bison) of bovid ruminants having a shaggy mane, short, curved horns, and a humped back, as the American buffalo (B. bison) or the wisent
Origin: Early Modern English bisontes, plural ; from Classical Latin plural of bison, wild ox ; from Germanic an unverified form wisunt ; from Indo-European an unverified form wis-onto- ; from base an unverified form weis-: see weasel
Webster's New World College Dictionary
Copyright © 2010 by Wiley Publishing, Inc., Cleveland, Ohio.
Used by arrangement with John Wiley & Sons, Inc.
---
noun
pl.
bison
bison
A bovine mammal (Bison bison) of western North America, having large forequarters, a shaggy mane, and a massive head with short curved horns; a buffalo.
An animal (B. bonasus) of Europe, similar to but somewhat smaller than the bison; a wisent.
Origin: Latin bisōn, of Germanic origin; akin to Old High German wisunt.
The American Heritage® Dictionary of the English Language
, 4th edition Copyright © 2010 by Houghton Mifflin Harcourt Publishing Company. Published by Houghton Mifflin Harcourt Publishing Company. All rights reserved.
---
bison - Computer Definition
The Free Software Foundation's version of yacc.
Computer Desktop Encyclopedia
THIS DEFINITION IS FOR PERSONAL USE ONLY
All other reproduction is strictly prohibited without permission from the publisher.
© 1981-2014 The Computer Language Company Inc. All rights reserved.
bison
Variant of bison
noun
pl.
bison
any of a genus (Bison) of bovid ruminants having a shaggy mane, short, curved horns, and a humped back, as the American buffalo (B. bison) or the wisent
Origin: Early Modern English bisontes, plural ; from Classical Latin plural of bison, wild ox ; from Germanic an unverified form wisunt ; from Indo-European an unverified form wis-onto- ; from base an unverified form weis-: see weasel