Berkeley
[bärk′lē, bʉrk′-]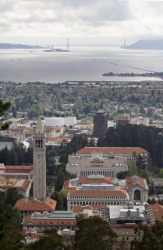 Aerial view of Berkeley University.
---
Berkeley
Berkeley, George 1685-1753; Ir. philosopher & bishop

Berkeley, Sir William 1606-77; Brit. colonial governor of Virginia (1641-52; 1660-76)
city in W California, on San Francisco Bay, just north of Oakland: pop. 103,000
Origin of Berkeley
after George Berkeley
---
Berkeley
A city of northern California on San Francisco Bay north of Oakland. A branch of the University of California is here (established 1868).
---
Berkeley
Proper noun
A male given name transferred from the surname.
Any of several places, including a city in California.
The University of California in Berkeley
---