noun
The definition of a banana is a plant grown in tropical regions, or the fruit which it bears.

An example of a banana when it is ripe is a yellow or red piece of fruit that is long and about one inch in diameter and of a slightly bent cylindrical shape.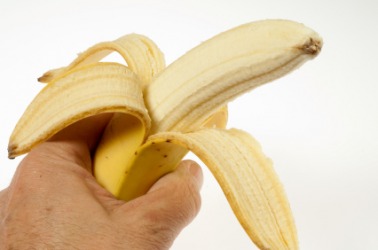 A half peeled banana.
---
banana definition by Webster's New World
noun
any of a genus (Musa) of treelike tropical plants of the banana family, with long, broad leaves and large clusters of edible fruit; esp., any of the various hybrids widely cultivated in the Western Hemisphere
the long, curved fruit of these plants which usually has a soft, sweet, whitish pulp and a thick, usually yellowish skin
Origin: Spanish and amp; Portuguese ; from native name in western Africa, as in Mande banäna
adjective
designating a family (Musaceae, order Zingiberales) of monocotyledonous tropical plants, including heliconia and bird of paradise
Webster's New World College Dictionary Copyright © 2010 by Wiley Publishing, Inc., Cleveland, Ohio. Used by arrangement with John Wiley & Sons, Inc.
---
banana definition by American Heritage Dictionary
noun
Any of several treelike Asian herbs of the genus Musa, especially M. acuminata, having a terminal crown of large, entire leaves and a hanging cluster of fruits.
The elongated, edible fruit of these plants, having a thick yellowish to reddish skin and white, aromatic, seedless pulp.
Origin: Portuguese and Spanish, from Wolof, Mandingo, and Fulani.
The American Heritage® Dictionary of the English Language, 4th edition Copyright © 2010 by Houghton Mifflin Harcourt Publishing Company. Published by Houghton Mifflin Harcourt Publishing Company. All rights reserved.
---
banana - Phrases/Idioms