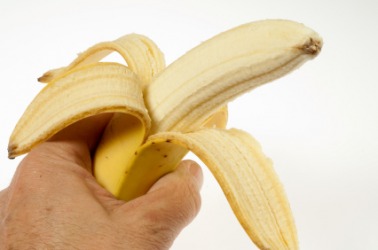 A half peeled banana.
noun
The definition of a banana is a plant grown in tropical regions, or the fruit which it bears.

An example of a banana when it is ripe is a yellow or red piece of fruit that is long and about one inch in diameter and of a slightly bent cylindrical shape.
---
banana
any of a genus (Musa) of treelike tropical plants of the banana family, with long, broad leaves and large clusters of edible fruit; esp., any of the various hybrids widely cultivated in the Western Hemisphere
the long, curved fruit of these plants which usually has a soft, sweet, whitish pulp and a thick, usually yellowish skin
Origin of banana
Spanish and Portuguese from native name in western Africa, as in Mande
banäna
designating a family (Musaceae, order Zingiberales) of monocotyledonous tropical plants, including heliconia and bird of paradise

---
banana
noun
Any of several treelike plants of the genus Musa, especially M. acuminata, having a terminal crown of large, entire leaves and a hanging cluster of fruits.
The elongated, edible fruit of these plants, having a thick yellowish to reddish skin and whitish, pulpy flesh.
Origin of banana
PortugueseSpanish
from
WolofMande,Fulani
banana
Musa sp.
---
banana

Noun
(countable and uncountable, plural bananas)
An elongated curved fruit, which grows in bunches, and has a sweet creamy flesh and a smooth yellow skin.
The tropical treelike plant which bears clusters of bananas. The plant, of the genus Musa, has large, elongated leaves and is related to the plantain.
(uncountable) A yellow colour, like that of a banana's skin.
Adjective
(not comparable)
Curved like a banana, especially of a ball in flight.
Acronym
Build Absolutely Nothing Anywhere Near Anyone () Anything. Someone who objects to the building of any structure in their neighborhood, especially in public policy debate. Used as an expression of irritation towards people who are thought of as being worse than NIMBYs.
Origin
Attested since 1991 in Australia.
---