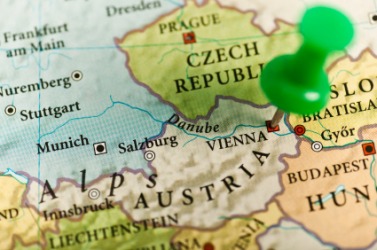 A map showing Austria.
---
Austria definition by Webster's New World
country in central Europe: 32,378 sq mi (83,859 sq km); pop. 7,796,000; cap. Vienna
Origin: Midieval Latin ; from Old High German ostarrih ; from ostan, east plush rihhi, realm
Webster's New World College Dictionary Copyright © 2010 by Wiley Publishing, Inc., Cleveland, Ohio. Used by arrangement with John Wiley & Sons, Inc.
---
Austria definition by American Heritage Dictionary
A landlocked country of central Europe. Settled by Celtic tribes, the region was conquered (15 B.C.-A.D. 10) by the Romans and later (8th century) by Charlemagne, who made it a border state of the Carolingian Empire. In the 13th century, Austria passed to the Hapsburg family and remained the core of their vast holdings until the dissolution of Austria-Hungary in 1918, when Austria became a republic. Annexed by Adolf Hitler in 1938, Austria regained full sovereignty in 1955. Vienna is the capital and the largest city. Population: 8,200,000.
Related Forms:
Ausˈtri·an

adjective

& n.
Austria
The American Heritage® Dictionary of the English Language, 4th edition Copyright © 2010 by Houghton Mifflin Harcourt Publishing Company. Published by Houghton Mifflin Harcourt Publishing Company. All rights reserved.
---
Austria - Cultural Definition
Mountainous republic in central Europe, bordered by Germany and the former Czechoslovakia to the north, Hungary to the east, Slovenia and Italy to the south, and Switzerland and Liechtenstein to the west. Its capital and largest city is Vienna.
Under the Hapsburg dynasty (1278-1918), Austria maintained control of the Holy Roman Empire and became a leading player in European politics.

After losing control of the German portions of the Holy Roman Empire in the nineteenth century, Austria joined with Hungary to create the Austro-Hungarian Empire (1867-1918). Allied with Germany, Bulgaria, and Turkey in World War I, the Austro-Hungarian Empire was devastated by the war.
Austria was occupied by Nazi forces in 1938 and annexed by Adolf Hitler to Germany. It was reestablished as a republic in 1945 but remained occupied by four Allied powers until it declared neutrality in 1955.

The picturesque Tyrol region, in the western part of the country, is a favorite year-round tourist spot.