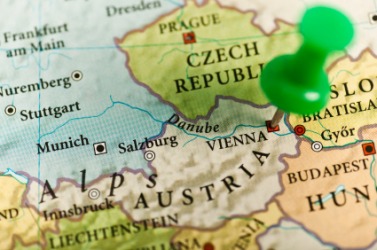 A map showing Austria.
---
Austria
country in central Europe: 32,378 sq mi (83,859 sq km); pop. 7,796,000; cap. Vienna
Origin of Austria
Medieval Latin ; from Old High German
ostarrih
; from
ostan
,
east
+
rihhi
, realm
---
Austria
A landlocked country of central Europe. Settled by Celtic tribes, the region was conquered (15 BC–AD 10) by the Romans and later (8th century) by Charlemagne, who made it a border state of the Carolingian Empire. In the 13th century, Austria passed to the Habsburg family and remained the core of their vast holdings until the dissolution of Austria-Hungary in 1918, when Austria became a republic. Annexed by Adolf Hitler in 1938 and occupied by French, British, Soviet, and American forces in 1945 at the end of World War II, Austria regained full sovereignty in 1955. Vienna is the capital and the largest city.
Related Forms:
Aus′tri·an

adjective

& n.
Austria
---