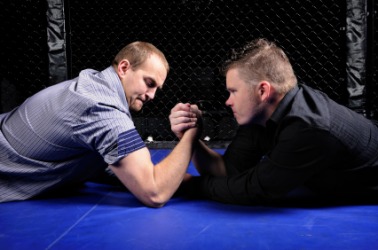 Two men arm-wrestling, or Indian wrestling.
---
arm-wrestling
☆
noun
Indian wrestling (sense )
---
arm-wrestling
or arm-wres·tling
noun
A form of wrestling in which two opponents sit facing each other with usually right hands interlocked and elbows firmly planted, as on a table surface, and attempt to force each other's arm down. Also called Indian wrestling.
Related Forms:
---
arm-wrestling
---