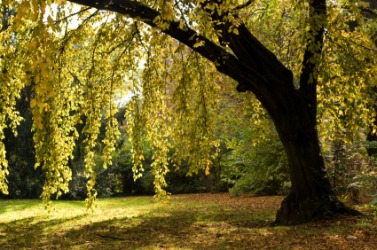 An alder tree in the summer sun.
noun
The definition of an alder is a small fast growing tree or shrub that grows in cool soil and cold climates.

An example of an alder is a plant in the birch family.
---
alder
any of a small group of rapidly growing trees and shrubs (genus Alnus) of the birch family, having toothed leaves and catkins, and growing in cool, moist soil in temperate and cold climates: the bark is used in dyeing and tanning, the wood is used for bridges and piles because it resists underwater rot, and the roots, which contain nitrogen-fixing organisms, help colonize raw soil
Origin of alder
Middle English
alder, aller
from Old English
alor, aler
from Indo-European base an unverified form
el-
: see elm
---
alder
noun
Any of various deciduous shrubs or trees of the genus Alnus, native chiefly to northern temperate regions and having alternate simple toothed leaves and woody, conelike catkins.
The wood of these plants, used in carvings and for making furniture and cabinets.
Origin of alder
Middle English
from
Old English
alor
alder
white alder
Alnus rhombifolia
---
alder

Noun
(plural alders)
Any of several trees or shrubs of the genus Alnus, belonging to the birch family.
grey alder
hazel alder
Himalayan alder
Italian alder
Japanese alder
Mexican alder
Origin
Middle English alder, aller, from Old English alor, from Proto-Germanic *aluz, *alusō (compare Swedish al, East Frisian ällerboom), variant of *alizō, *alisō (compare Dutch els, German Erle), from Proto-Indo-European *h₂élisos (compare Hittite [script?] (alanza(n)), Latin alnus, Latvian àlksnis, Polish olcha, Albanian halë 'black pine', Ancient Macedonian (Hesychius) άλιχα (álicha, "white poplar")
Usage notes
This is the customary abbreviation of this term as used in case citations. See, e.g., The Bluebook: A Uniform System of Citation, Nineteenth Edition (2010), "Court Names", Table T7, p. 432-434.
See also:
alder
---