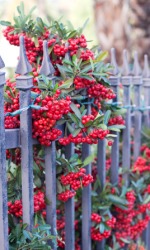 Black alder growing on a fence.
Licensed from iStockPhoto
---
☆
a deciduous shrub (Ilex verticillata) of the holly family, native to E North America, with glossy leaves that turn black in the fall and bright-red berries
Webster's New World College Dictionary
Copyright © 2010 by Wiley Publishing, Inc., Cleveland, Ohio.
Used by arrangement with John Wiley & Sons, Inc.
---
noun
A deciduous shrub or small tree (Ilex verticillata), the most widespread of North American hollies, growing in many variable forms from Minnesota to Texas and Georgia. Also called winterberry.
A Eurasian alder tree (Alnus glutinosa) that is sometimes cultivated in North America, especially for its ability to grow in soils too wet for many other trees.
The American Heritage® Dictionary of the English Language
, 4th edition Copyright © 2010 by Houghton Mifflin Harcourt Publishing Company. Published by Houghton Mifflin Harcourt Publishing Company. All rights reserved.