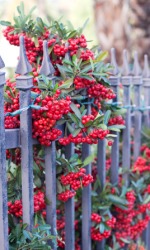 Black alder growing on a fence.
---
black alder
☆
a deciduous shrub (Ilex verticillata) of the holly family, native to E North America, with glossy leaves that turn black in the fall and bright-red berries
---
black alder
noun
A Eurasian alder tree (Alnus glutinosa) that grows in wet soil and is naturalized in parts of North America.
See winterberry.
---
black alder
Noun
(countable and uncountable, plural black alders)
(countable, uncountable) A tree, Alnus glutinosa, of many practical uses, growing in moist circumstances in Europe.
(uncountable) Wood or other product of the tree.
American winterberry, Ilex verticillata.
---