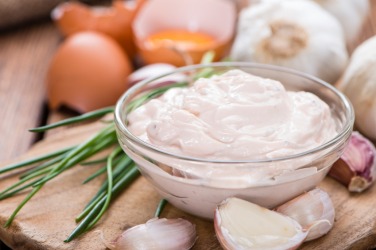 A dish of creamy aioli.
noun
The definition of an aioli is a garlicy mayonnaise-based sauce that is used for vegetables, sandwiches and seafood.

An example of an aioli is a sauce that is served with cooked asparagus.
---
aioli
or aï·o′li
a mayonnaise-type sauce with a base of crushed raw garlic
Origin of aioli
French
ailloli
,
aïoli
from Provençal
aioli
from
ai
, garlic ( from Classical Latin
allium
) +
oli
, oil from Classical Latin
oleum
---
aioli
noun
A rich sauce of crushed garlic, egg yolks, lemon juice, and olive oil.
Origin of aioli
Provençal
ai
garlic
(
from
Latin
allium
; see
allium
. )
oli
oil
(
from
Latin
oleum
; see
oil
. )
---
aioli

---