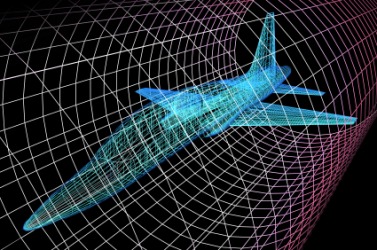 A simulation of an aircraft in wind tunnel used in the study of aerodynamics.
noun
The definition of aerodynamics is the study of movement of matter in relation to air or other gasses.

An example of a study of aerodynamics is to determine the potential speed of a vehicle based on the way its shape will move through air.
---
aerodynamics
the branch of aeromechanics that deals with the forces (resistance, pressure, etc.) exerted by air or other gases in motion
the characteristics of the outer body of a vehicle, aircraft, etc., that affect the efficiency with which it moves through the air
---
aerodynamics
noun
used with a sing. verb
The dynamics of bodies moving relative to gases, especially the interaction of moving objects with the atmosphere.
Related Forms:
aerodynamics
top: high drag on a less aerodynamic shape
bottom: low drag on a more aerodynamic shape
---
aerodynamics

---