actor

ac·tor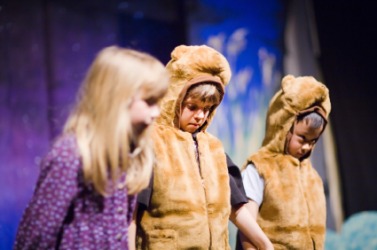 Little actors onstage.
noun
The definition of an actor is a person who does something, particularly someone who performs in a film or television show.

John Travolta and Johnny Deep are each an example of an actor.
---
actor
a person who does something or participates in something
a person, often, specif., a man, who acts in plays, movies, etc.
Origin of actor
Middle English
actour
, a doer, steward, plaintiff from Classical Latin
actor
, a doer, advocate from
actus
: see act
---
actor
noun
A person who behaves in the manner of a character, usually by reciting scripted dialogue, in order to entertain an audience, especially in a play, movie, or television show.
One who takes part; a participant: "France, Britain … and any other external actors now involved … in the affairs of the continent" ( Helen Kitchen )
Law

a. One, such as the manager of a business, who acts for another.

b. In civil law, the plaintiff in an action.
Origin of actor
Middle English
actour
doer
probably from
Latin
āctor
from
āctus
past participle of
agere
to drive, do
; see
ag-
in Indo-European roots.
---
actor

Noun
(plural actors)
A person who performs in a theatrical play or film.
One who acts; a doer.
One who takes part in a situation.
(law) An advocate or proctor in civil courts or causes.
(law) One who institutes a suit; plaintiff or complainant.
(policy debate) One who enacts a certain policy action.
(software engineering) The entity that performs a role (in use case analysis).
Origin
From Latin āctor ("doer"), from agere ("to do"). Cognate with Ancient Greek ἄκτωρ (aktōr, "leader"), from ἄγω (agō, "lead, carry, convey, bring").
---
actor - Computer Definition
(1) A primitive in a concurrent programming model. See actor model.
(2) (ACTOR) An earlier Windows object-oriented programming language for PCs developed by The Whitewater Group Inc., Evanston, IL.
---