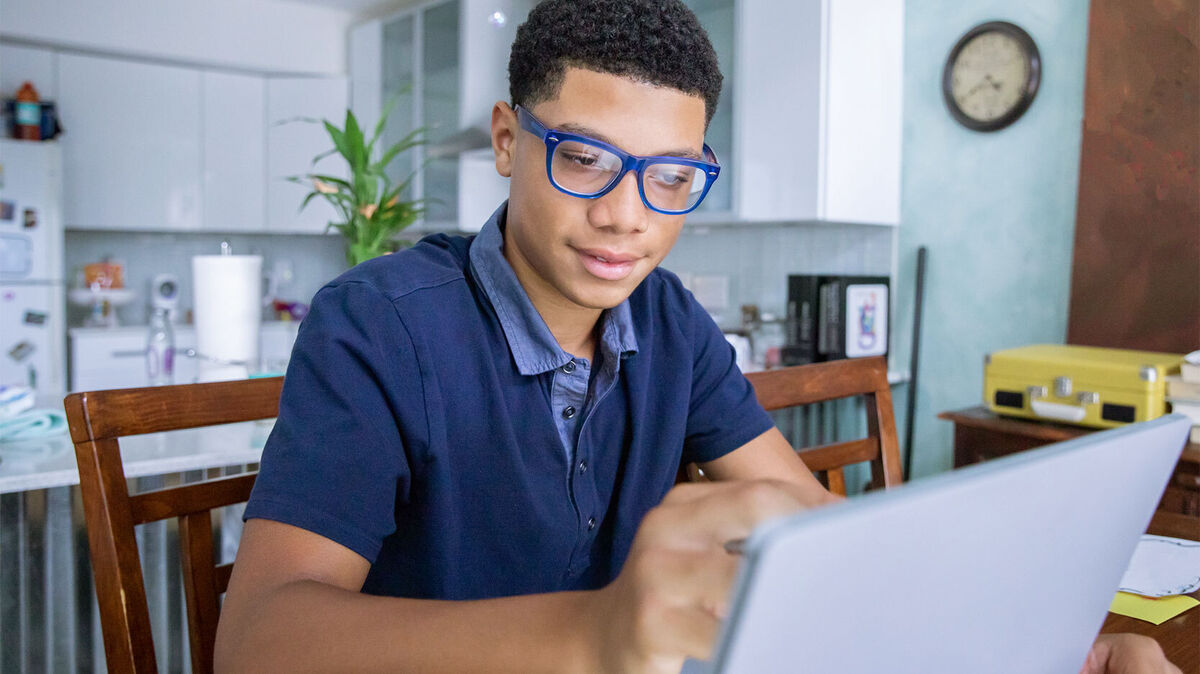 Creating your first high school resume doesn't need to be a difficult task. Follow these top tips for writing a high school resume that will make a great first impression.
1. Make a Strong First Impression
A resume is a chance to show off your skills and make a good impression. Even though you may have minimal work experience as a high school student, you can use your resume to highlight activities, experience and skills. When writing your resume, you want to use clear, concise language and avoid certain words and phrases that are often overused or vague such as "hard worker." It is also helpful to look at the keywords used in the job description and apply them to your resume.
You should also think about your social media accounts before submitting your resume. There's a good chance the employer will look at your pages whether they are listed on your resume or not, so make sure they are professional, presentable or private.
2. Create a Striking Design
There are some general formatting standards that will ensure your document is both attractive and easy to read.
Use a visually pleasing template that will catch the reader's eye.

Choose a professional, easy-to-read font such as Calibri, Times New Roman, Arial, Verdana, or Cambria.

Your body text should be between 10 and 12 point font. The headings should be slightly larger and in bold type.

Bullets can be used to make the text easy to scan, but they aren't necessary unless a section has three or more items.

If you use color at all, select simple colors to highlight your name and/or headings.

Limit yourself to a single page.
Printable High School Resume Template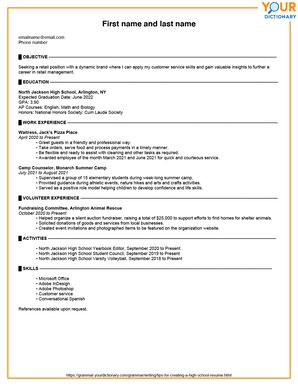 3. Keep Your Contact Information Up-to-Date
Include your contact information so that the employer can contact you to set up an interview or even offer you the job. This information should include:
full name - first and last name

address - your current mailing address

phone number - your personal cell phone number

professional-sounding email address - for example, johndoe@gmail.com is much more likely to get a follow-up than sparklyunicorn@animefans.com
Resumes should never include personal information, including the following:
your photo

age

race

gender

religion

social media handles
Additionally, references don't need to be included on your resume, but you should have the contact information for three references ready to provide upon request.
4. Focus on Your Objective
This is an opportunity to explain why you're qualified for the job. When you don't have a lot of experience, it's important to focus on the skills you do have. As such, it's important to have a strong objective that highlights your interests and skills. For example:
Artistic student with a 3.7 GPA looking to use her dedication and education in graphic design as an integral part of your team.
For more like this, follow one of these examples of resume objectives to craft a winning statement of your own.
Soft skills are generic but valued skills, such as "great communicator." Other soft skills include:
team player

problem solver

project manager

critical thinker

organized

excellent written communication

excellent verbal communication
Hard skills are more focused and specific. These skills might indicate something like coding knowledge, social media management or word processing skills.
proficient in Microsoft Office Suite

manages YouTube channel

types 75 WPM

fluent in Spanish
6. Be Diligent About Your Education Section
You have many years of valuable education, and there are a lot of academic accomplishments you can feature on your resume.
GPA - Include your GPA if it is a 3.5 or above.

honors - Listing any honors or AP classes can help you stand above the rest. You can list achievements, awards and honors in a separate section.

related courses - Consider mentioning relevant classes that relate to the line of work you'd like to be in. For example, if you are applying for a job in the food industry, you can include home economics or cooking classes you have taken.
7. Show Off Your Relevant Experience
This section is where you highlight any and all professional experience you have that shows the employer you are a hard worker and have applied skills relevant to the position you are applying for. This can include:
part-time jobs

seasonal or temporary positions

internships

small jobs for friends or family members
Consider a Major Achievements Section
In most resumes, a work experience section is essential. If you don't have any work experience yet, consider the experience you do have. Review the job description and determine what professional strengths you have that could transfer over to that position.
8. Include Your Volunteer Work
Employers love to work with people who volunteer in their community because it shows that you are hard-working, willing to learn, take initiative, and have a heart for helping others. Volunteering also increases your chances of getting a job, networking or finding a strong mentor. You can also merge this with the main experience section if you are running out of room.
Highlighting that you participate in athletics, drama, music, and other school or community activities shows that you're well-rounded, a team player and able to manage your time well. If you have experience in any leadership roles such as serving as team captain or club president, that also looks great on your resume.
Before submitting your resume, it's always a good idea to have two or more people proofread the document. This will help you avoid embarrassing typos and ensure that the relevant details of your background are presented clearly. You may also want to include a cover letter as many employers require one. Having a great resume on hand will serve you well and help you land an interview as you take the first step into a lifetime of success.