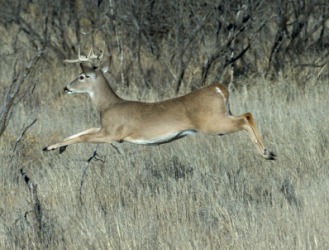 The action of this deer is yauld.
adjective
The definition of yauld is a Scottish term to describe a quick and vigorous person or thing.

An example of yauld is a deer sprinting through the forest.
---
yauld
Scot.
active, nimble, etc.
---
yauld

Adjective
(comparative yaulder or more yauld, superlative yauldest or most yauld)
Origin
From Middle English *yeld, from Old English *Ä¡ilde ("valuable, of worth"), from Proto-Germanic *gildiz ("valuable, valid, wholesome, precious"), from Proto-Indo-European *gheldh- ("to pay for, repay"). Cognate with Scots yauld ("active, strong, mighty"), Old Norse gildr ("of full worth, size, measure, or quality; full; complete; absolute; great") (whence Icelandic gildur ("valid, thick, prominent, important"), Swedish gild ("stout, of full size"), Danish gild ("brawny, of full size, fine"). Related to yield.
---