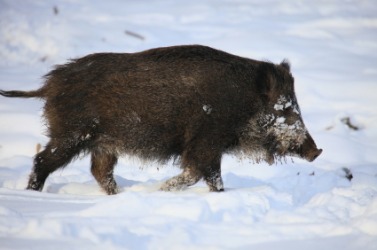 A wild boar.
---
wild boar
a hog (Sus scrofa) living wild in Europe, Africa, and Asia, from which domestic hogs were derived
---
wild boar
noun
A wild pig (Sus scrofa) of Eurasia and northern Africa, having dark dense bristles and four tusks in the male. It is the ancestor of the domestic swine.
---
wild boar
Noun
(plural wild boars)
A wild swine native to Europe and North Africa, Sus scrofa.
Adjective
wild-boar
attributive form of wild boar, noun.

 
---