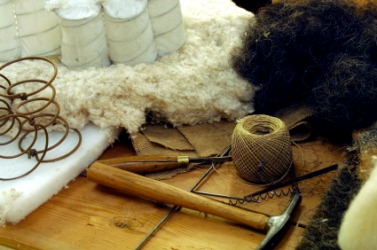 Upholstery materials.
noun
Upholstery is defined as the fabric and stuffing used to add padding to furniture, or the business of covering furniture with fabric.

An example of upholstery is the padded seat of a wooden dining chair.
---
upholstery
noun
pl.
-·ster·ies
the fittings and material used in upholstering
the business or work of an upholsterer
Origin of upholstery
see upholsterer and -ery
---
upholstery
noun
pl.
up·hol·ster·ies
Fabric, stuffing, and other materials used in upholstering.
The craft, trade, or business of upholstering.
---
upholstery

---