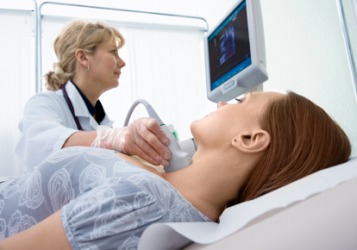 A woman has an ultrasound of her thyroid.
noun
The definition of ultrasound is a medical process that uses sound waves through a medical instrument to obtain images of internal organs.

An example of ultrasound is the technology used to get images of an unborn baby.
---
ultrasound
ultrasonic waves, used in medical and dental diagnosis and therapy, in cleaning and detecting flaws in metal, etc.

Radiology

the use of ultrasonic waves in ultrasonography to form images of interior bodily organs, as the uterus or heart
---
ultrasound
noun
Ultrasonic sound.

a. The use of ultrasonic waves for diagnostic or therapeutic purposes, specifically to image an internal body structure, monitor a developing fetus, or generate localized deep heat to the tissues.

b. An image produced by ultrasound.
---
ultrasound

---
ultrasound - Computer Definition
---