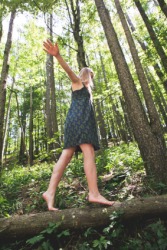 A girl walks tiptoe across a log.
verb
Tiptoe means to walk quietly and carefully with your heels raised and your weight placed on the balls of your feet.

When you are quietly sneaking in after curfew and you tread lightly, walking with your weight on the front of your feet and your heels in the air, this is an example of when you tiptoe.
---
tiptoe
the tip of a toe or the tips of the toes: usually used with reference to a foot position with the heels raised and the body's weight resting on the toes and the balls of the feet
intransitive verb
-·toed·

,

-·toe·ing
to walk stealthily or cautiously on one's tiptoes
standing on one's toes and the balls of one's feet
stealthy; cautious
on tiptoe
on one's toes and the balls of one's feet
eager; excited; alert
silently; stealthily
---
tiptoe
intransitive verb
tip·toed, tip·toe·ing, tip·toes
To walk or move quietly on one's toes.
noun
The tip of a toe.
adjective
Standing or walking on one's toes.
Stealthy; wary.
adverb
On one's toes.
Stealthily; warily.
---
tiptoe

---