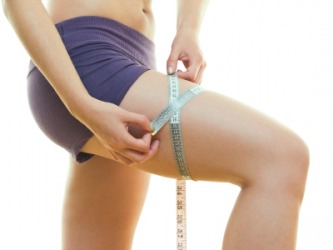 A woman measuring her thigh.
noun
The thigh is defined as the part of the leg right below the hip.

An example of the thigh is the part of the chicken attached to the drumstick.
---
thigh
that part of the leg in humans and other vertebrates between the knee and the hip; region of the thighbone, or femur
the region of the tibia, as in poultry
Origin of thigh
Middle English
thih
from Old English
theoh,
akin to Middle High German
diech
from Indo-European an unverified form
teuk-
from base an unverified form
teu-,
to swell from source thumb, Classical Latin
tumor
---
thigh
noun
a. The portion of the human leg between the hip and the knee.

b. The corresponding part of the hind leg of a quadruped or other vertebrate animal.

The second segment of a bird's leg, containing the tibia and fibula.
A cut of meat taken from this part of an animal's body, especially from poultry.
Origin of thigh
Middle English
from
Old English
thēoh
; see
teuə-
in Indo-European roots.
---
thigh

Noun
(plural thighs)
That part of the leg of vertebrates (sometimes other animals) which corresponds to the human thigh in position or function; the tibia of a horse, the tarsus of a bird; the third leg-section of an insect. [from 14th c.]
Origin
From Middle English thighe, thehe, from Old English þēoh, þīoh, from Proto-Germanic *þeuhÄ… (compare West Frisian tsjea, Dutch dij, German Diech, Icelandic þjó), from Proto-Indo-European *teuk- (compare Scottish Gaelic tòn ("hind, rump"), Lithuanian táukas ("fat"), Russian тук (tuk', "animal fat")).
---