tandem
tan·dem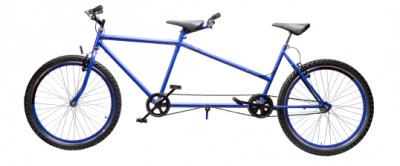 A tandem bicycle.
adjective
The definition of tandem is an arrangement of one thing right in front of the other.

An example of tandem is when horses go down a path single file, one in front of the other.
noun
Tandem is a special bicycle built for two.

An example of tandem is a bicycle that two people can ride together.
---
tandem
one behind another; in single file
Origin of tandem
origin, originally punning use of Classical Latin
tandem,
at length, finally ; from
tam
, so much (; from Indo-European an unverified form
tam
, accusative singular feminine of pronoun ; from base an unverified form
to-
from source the) +
-dem
, demonstrative particle
a two-wheeled carriage drawn by horses harnessed tandem
a team, as of horses, harnessed tandem
a bicycle with two seats and sets of pedals placed tandem
a relationship between two persons or things involving cooperative action, mutual dependence, etc.: to work in tandem
having two parts or things placed tandem
---
tandem
noun
A two-wheeled carriage drawn by horses harnessed one before the other.
A team of carriage horses harnessed in single file.
A tandem bicycle.
An arrangement of two or more persons or objects placed one behind or adjacent to the other: driving horses in tandem.
adjective
Having two identical components arranged one behind or adjacent to the other: a tandem axle; a tandem gene.
Origin of tandem
Latin,
at last, at length
; see
to-
in Indo-European roots.
Related Forms:
---
tandem
---
tandem - Computer Definition
(Tandem Computers Inc., Cupertino, CA) A former major manufacturer of fault-tolerant computers founded in 1974 by James Treybig and provider of the early 21st century technology for HP's enterprise computing strategy. Tandem was the first company to address the transaction processing (OLTP) market for online reservations and financial transfers by providing computers designed from the ground up for fault-tolerant operation. These computers are used in all the major banks, stock exchanges, credit card companies and ATM machines in the world. Tandem's most significant product was its MIPS-based Himalaya series which ran the NonStop Kernel operating system, compatible with Tandem's Guardian OS. This platform lives on in the NonStop S-series servers from HP, which acquired Tandem's technology via Compaq in 2002. Compaq purchased Tandem in 1997. See ServerNet.
---