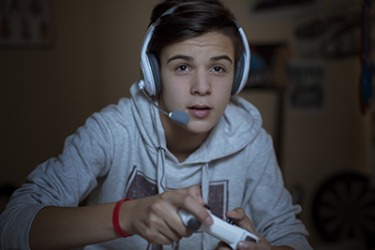 Kenny's mom told him that he should go to bed at eleven thirty and not stay up all night playing video games.
verb
Should signifies something you ought to do or something that is a good idea or that something that may happen.

An example of should is when someone tells you that you ought to go to bed.
An example of should is when you believe you must obey the law
An example of should is when someone says they will do something if they might happen to win the lottery.
---
should
pt. of shall: I had hoped I should see you
used to express obligation, duty, propriety, or desirability: you should ask first; the plants should be watered weekly
used to express expectation or probability: he should be here soon; I should know by tomorrow
used to express a future condition: if I should die tomorrow, if you should be late
used in polite or tentative expression of opinion: I should think they will be pleased
Origin of should
Middle English
scholde
from Old English
sceolde
, past tense of
sceal, scal
, I am obliged: see shall
---
should
aux.v.
Past tense of
shall
Used to express obligation or duty: You should send her a note.
Used to express probability or expectation: They should arrive at noon.
Used to express conditionality or contingency: If she should fall, then so would I.
Used to moderate the directness or bluntness of a statement: I should think he would like to go.
Usage Note: Just as they ignore the traditional rules governing the use of shall and will, Americans largely ignore the traditional rules governing the use of should and would. The two verbs are not always interchangeable, however. To express duty or obligation, should is required and functions as the equivalent of ought to: I (or you or he ) should go. But would (and not should ) is used to express willingness or promise ( I agreed that I would do it ) and to express habitual action in the past ( In those days we would walk along the canal at night ). Would also has the advantage of being a polite substitute for will in requests: Would you lend me a dollar? Either should or would can be used in the first person to express the future from the point of view of the past, but one should bear in mind that should sounds more formal than would: He swore that I should (or less formally, would ) pay for the remark. The same principle applies to the verb in sentences that express a hypothetical condition or event: If I had known that, I would (or more formally, should ) have answered differently. In the second and third persons, however, only would is used: She assured us that she would (not should ) return. If he had known that, he would (not should ) have answered differently. • Choosing which verb to use in conditional clauses, such as those beginning with if, can be tricky. In certain clauses, should is used for all three persons: If I (or you or he ) should decide to go, we will need a larger car. If it should begin to snow, we will stay here tonight. Would is not acceptable in these if clauses, but it does appear in other kinds of conditional clauses: He might surprise you if you would give him a chance. The best advice is to follow what sounds most natural. When in doubt, writers can try a verb form in the indicative ( if it begins to snow ) or the subjunctive ( if you were to give him a chance ). See Usage Note at if. See Usage Note at rather. See Usage Note at shall.
---
should

Usage notes
Should has, as its most common meaning in modern English, the sense ought as in I should go, but I don't see how I can. However, the older sense as the subjunctive of the future indicative auxiliary, shall, is often used with I or we to indicate a more polite form than would: I should like to go, but I can't. In much speech and writing, should has been replaced by would In contexts of this kind, but it remains in conditional subjunctives: should (never would) I go, I should wear my new dress.
(obligation): Contrast with stronger auxiliary verb must, which indicates that the subject is required to execute the predicate.
(likely): Contrast with stronger auxiliary verb must, which indicates that the subject certainly will execute the predicate.
See the usage notes at shall.
Noun
(plural shoulds)
A statement of what should be the case as opposed to what is the case.
Origin
From Old English sceolde, preterite form of sculan ("owe", "be obliged").
---