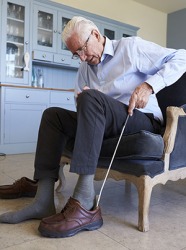 A long handled shoehorn can help the elderly put their shoes on more easily.
noun
The definition of a shoehorn is a curved piece of plastic or metal that helps you to get your heel into the back of your shoe.

When you go to try on shoes and the salesman uses a plastic curved piece to help your heel slide more easily into the back of the shoe, this curved piece is an example of a shoehorn.
verb
Shoehorn is to try to force something into a space that is too small.

When you try to force an entire house full of furniture into a one-bedroom apartment, this is an example of a time when you try to shoehorn.
---
shoehorn
an implement of metal, horn, plastic, etc. with a curved blade, inserted inside the back of a shoe to aid the wearer in slipping his or her heel in
to force or squeeze into a narrow space
---
shoehorn
noun
A smooth curved implement, often of plastic or metal, inserted at the heel to help put on a shoe.
transitive verb
shoe·horned, shoe·horn·ing, shoe·horns
To squeeze into or as if into an insufficient space: The usher shoehorned us into the back of the crowded theater.
---
shoehorn

Verb
(third-person singular simple present shoehorns, present participle shoehorning, simple past and past participle shoehorned)
(literally) To use a shoehorn.
To force (something) into (a tight space); to squeeze (something) into (a schedule, etc); to exert great effort to insert or include (something).

I shoehorned his dozen burgeoning bags into the backseat of my tiny car, and off we went.
His staff want to shoehorn an extra stop into his already packed campaigning schedule.
---