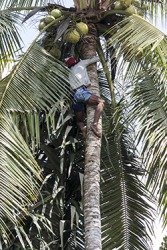 The man is shinning the tree to harvest the coconuts.
verb
Shinning is defined as to climb something by holding on and using legs, hands and arms to pull up the body.

An example of shinning is how someone would climb up a metal pole.
---
shinning

Verb
Present participle of shin.
---