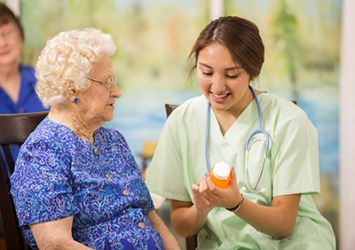 She's explaining the dosage directions to the elderly patient.
pronoun
She's is a contraction of either she is or she has.

An example of she's is the contraction form of the phrase "She is the best."
---
she's
---
she's
Contraction of she is : She's going away for the weekend.
Contraction of she has : She's been to the symphony twice this month.
---
she-s

Usage notes
-
In most dialects, she's is only used to mark the perfect tense ("She's done something.", "She has done something."), and not to signify possession ("She has something."). Some dialects, however, use she's for both.
---