servitude

ser·vi·tude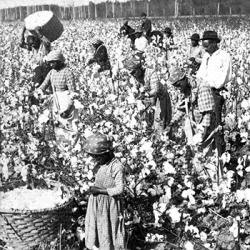 Slaves lived a life of servitude in the United States until the 13th Amendment was formally adopted into the U.S. Constitution in 1865.
noun
Servitude is the state of being completely submissive to and controlled by someone more powerful.

When a person caters to every whim and need of another, this person is an example of someone who would be described as in servitude.
---
servitude
the condition of a slave, serf, or the like; subjection to a master; slavery or bondage
work imposed as punishment for crime

Law

the burden placed upon the property of a person by a specified right another has in its use
Origin of servitude
Middle English from Middle French from Classical Latin
servitudo
from
servus
, slave: see serf
---
servitude
noun
a. A state of subjection to an owner or master.

b. Lack of personal freedom, as to act as one chooses.

Forced labor imposed as a punishment for crime: penal servitude in labor camps.
Law An easement.
Origin of servitude
Middle English
from
Old French
from
Late Latin
servitūdō
from
Latin
servus
slave
---
servitude

---
servitude - Legal Definition
---