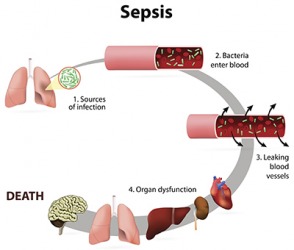 Sepsis is a life threatening condition that can cause one or more organs to fail.
noun
Sepsis, also known as a blood stream infection, is a body-wide illness that comes from bacteria or other toxins from an infection.

An example of sepsis is an illness that is a concern after surgery.
---
sepsis
a poisoned state caused by the absorption of pathogenic microorganisms and their products into the blood or other bodily tissue
Origin of sepsis
Modern Latin from Classical Greek
s?psis
, putrefaction from
s?pein
, to make putrid: see sepia
---
sepsis
noun
Systemic infection by pathogenic microorganisms, especially bacteria, that have invaded the bloodstream, usually from a local source. Sepsis is characterized by fever, increased number of white blood cells, increased heart rate, and other signs of widespread infection.
Origin of sepsis
Greek
sēpsis
putrefaction
from
sēpein
to make rotten
---
sepsis

Noun
(plural sepses)
(pathology) A serious medical condition in which the whole body is inflamed, and a known or suspected infection is present.
Origin
From Ancient Greek σῆψις (sÄ"psis, "putrefaction"), from σήπειν (sÄ"pein, "to make rotten"), from σήψ (sÄ"ps, "a kind of lizard, also a kind of serpent whose bite was alleged to cause putrefaction").
---