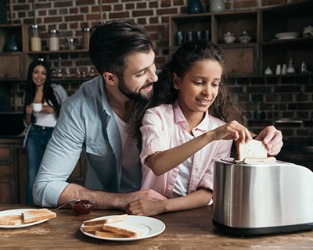 Giana's father knew that using a toaster was fairly self explanatory but he still wanted to give her a few helpful pointers since it was her first time making toast.
adjective
The definition of self explanatory is something that can be understood easily without any further instruction or information.

For most adults, using a toaster is self explanatory.
---
self-explanatory
explaining itself; obvious without explanation
---
self-explanatory
adjective
Needing no explanation; obvious.
---
self-explanatory

---