sedimentary

sed·i·men·ta·ry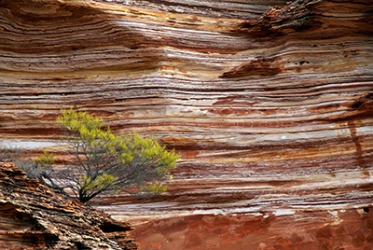 An example of sedimentary rock layers near Kalbarri Western Australia.
adjective
The definition of sedimentary is something related to particles which are carried along by liquid, sometimes combining and compressing into rock.

Rock that is formed out of dregs of liquid left behind on the surface of land is an example ofsedimentary rock.
---
sedimentary
of, having the nature of, or containing sediment
formed by the deposit of sediment or by evaporation or precipitation, as certain rocks
---
sedimentary
also sed·i·men·tal
adjective
Of, containing, resembling, or derived from sediment.
Of or relating to rocks formed by the deposition of sediment.
---
sedimentary

Adjective
(not comparable)
(geology) A form of rock made by the deposition and compression of small particles.
Origin
From Latin sedere, to sit.
---