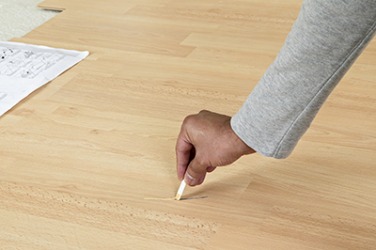 The homeowner used a kit that came with the product to repair the scuff mark on the laminate flooring.
noun
The definition of a scuff is a surface mark made by an object being rubbed or scraped.

A dirty mark on a wall where your shoes rubbed against the wall is an example of a scuff.
verb
Scuff is to brush your shoe against a surface, marking either the shoe or the surface, or to walk without lifting the feet.

If your shoes are not going to become marked when you walk in them, this is an example of a time when your shoes won't scuff.
If you brush your shoe against the wall and it marks the wall, this is an example of a time when your shoe scuffs the wall.
---
scuff
to scrape (the ground, floor, etc.) with the feet
to wear a rough place or places on the surface of (a shoe, etc.)
to move (the feet) with a dragging motion
Origin of scuff
probably from or akin to Old Norse
skufa
, to shove
to walk without lifting the feet; shuffle
to become scraped or worn in patches on the surface
a sound or act of scuffing
a worn or rough spot
a loosefitting house slipper, esp. one without a built-up heel or a counter
---
scuff
verb
scuffed, scuff·ing, scuffs
verb
intransitive
To scrape the feet while walking; shuffle.
verb
transitive
To scrape with the feet.
To shuffle or shift (the feet), as in embarrassment.
To scrape and roughen the surface of.
noun
The act or sound of scraping especially with the feet.
A worn or rough spot resulting from scraping.
A flat backless house slipper.
Origin of scuff
Probably of Scandinavian origin
Old Norse
skūfa
to push
Related Forms:
---
scuff

---