saturation

sat·u·ra·tion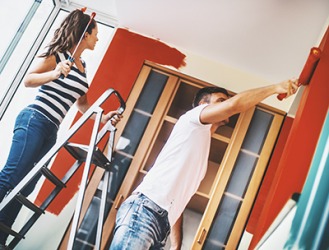 Olivia thought the saturation of the red paint she chose for her walls made the room look vibrant.
noun
The definition of a saturation is a complete soaking or soaking up.

An example of a saturation is a sponge full of water.
An example of a saturation is a wall painted a deep red.
---
saturation
a saturating or being saturated
the degree of purity of a color, as measured by its freedom from mixture with white; intensity of hue
the condition of a magnetic substance that has been magnetized to the maximum
Origin of saturation
Late Latin
saturatio
---
saturation
noun
a. The act or process of saturating.

b. The condition of being saturated.

c. The condition of being full to or beyond satisfaction; satiety.

Physics A state of a ferromagnetic substance in which an increase in applied magnetic field strength does not produce an increase in magnetization.
Chemistry The state of a compound or solution that is fully saturated.
Meteorology A condition in which air at a specific temperature contains all the water vapor it can hold; 100 percent relative humidity.
Vividness of hue; degree of difference from a gray of the same lightness or brightness. Also called intensity . color
Intensive shelling or bombing of a military target to achieve total destruction.
The flooding of a market with all of a commodity that consumers can purchase.
---
saturation

---
saturation - Computer Definition
(1) On magnetic media, a condition in which the magnetizable particles are completely aligned and a more powerful writing signal will not improve the reading back.
(2) In a bipolar transistor, a condition in which the current on the gate (the trigger) is equal to or greater than what is necessary to close the switch.
(3) In a diode, a condition in which the diode is fully conducting.
(4) In a color, the amount of pure pigment it contains. For example, a fully saturated red would be pure red. The less saturated, the more pastel the appearance. See HSB, HSL, chroma, luminance and hue.
---
saturation - Investment & Finance Definition
A point in a product's life cycle when it is widely distributed. In order to sell more units, a company has to come up with a new, innovative marketing strategy to make the product appear fresh. Saturation likely is accompanied by widespread competition and pricing pressure.
---