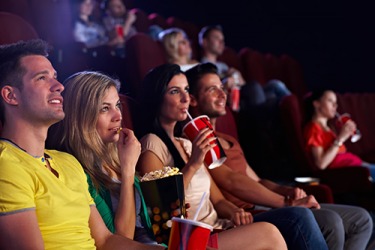 We did a quick saccade of the crowded movie theater in search of two open seats.
noun
The definition of a saccade is a fast movement of the eyes from one point to another.

An example of a saccade is the movement of the eyes as you scan a room for something.
---
saccade
any of the rapid, involuntary jumps made by the eyes from one fixed point to another, as in reading
Origin of saccade
Fr, a jerk from obsolete
saquer
, to shake, pull, dialect, dialectal variant, variety of Old French
sachier
from Vulgar Latin an unverified form
saccare
, to pull from a sack from Classical Latin
saccus
, sack
---
saccade
noun
A rapid intermittent eye movement, as that which occurs when the eyes fix on one point after another in the visual field.
Origin of saccade
French
jerk, jolt
from
Middle French
from
Old French dialectal
saquer
to jerk, pull
variant of
Old French
sachier
to pull forcefully, turn over, shake up
from
sac
sack (perhaps in reference to the shaking of bags of wheat to settle their contents)
; see
sac
1
.
Related Forms:
---
saccade

Verb
(third-person singular simple present saccades, present participle saccading, simple past and past participle saccaded)
(of the eye) To make a rapid jerking movement to focus elsewhere.
---