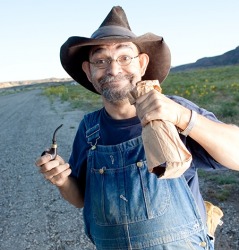 The hopeless, town rounder usually ended up in jail at least a few times per month.
noun
Rounder is defined as someone who is frequently drunk or shows immoral or improper conduct.

An example of a rounder is an alcoholic.

The definition of a rounder is a tool for softening or rounding edges.

An example of a rounder is a saw that trims corners to rounded edges.
---
rounder
Obs.

a person who makes a round or rounds, as a watchman
a person or thing that rounds; specif., a tool for rounding corners or edges
[pl., with sing. v.] a British game somewhat like baseball

Origin of rounder

from the idea of making the rounds of bars, and the like

Informal

a dissolute person or drunkard
---
rounder
noun
One that rounds, especially a tool for rounding corners and edges.
One, such as a security guard, who makes rounds.
A dissolute person.
Sports

a. A boxing match that goes on for a specified number of rounds. Often used in combination: a five-rounder.

b. rounders used with a sing. verb An English ball game similar to baseball.
---
rounder

Noun
(plural rounders)
A railroad man who worked at a roundhouse, operating the turntable.
A person who earns a living by playing cards.
A person who makes the rounds of bars, saloons, and similar establishments; figuratively, a debaucher or roué
One who rounds; one who comes about frequently or regularly.
A tool for making an edge or surface round.
---