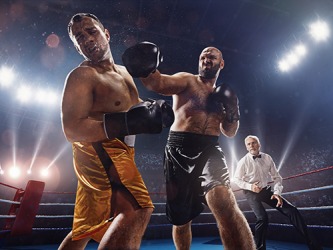 Spectators claimed the boxing fight was rigged because the knockout punch looked like it had been staged.
verb
Rigged is defined as something in the proper order for use, or is something that is fixed in a dishonest way to guarantee a desired outcome.

A boat that is ready to sail is an example of a boat that is rigged.
A contest where the winner is predetermined beforehand is an example of a contest that isrigged.
---
rigged

Adjective
(not comparable)
(for a competition) pre-arranged and fixed so that the winner is decided before the competition

There was a vicious rumour that the final was rigged, as the defense seemed useless.

(nautical) Having the rigging up

We were ready to embark upon our journey now the vessel was rigged.
Verb
simple past tense and past participle of rig
---