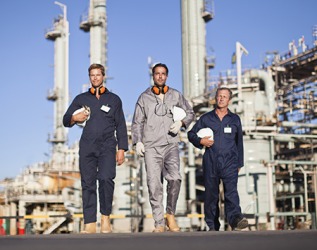 The riggers work together at the offshore oil refinery for several months at a time.
noun
The definition of a rigger is a person who maintains oil rigs or scaffolding, sailing ships or air craft rigging, or a person who manipulates situations to his or her advantage.

If you build and maintain scaffolding used by window washers, this is an example of when you are a rigger.
If you use a stacked deck of cards and cheat at the game so you'll always win, this is an example of when you are a rigger.
---
rigger
a person who rigs; specif.,
a person who works with hoisting tackle and the like
a person whose work is assembling the fuselage, wings, etc. of aircraft
a person who packs parachute assemblies
a person who works with an oil rig
---
rigger
noun
One that rigs: oil and gas riggers.
Nautical A ship with a specific kind of rigging. Often used in combination: a square-rigger.
---
rigger

Noun
(plural riggers)
One who rigs or dresses; one whose occupation is to fit the rigging of a ship or of a counterweight system.
A part of a rowing boat's equipment used to provide leverage for a rowing blade or oar around a fixed fulcrum.
A cylindrical pulley or drum in machinery.
---