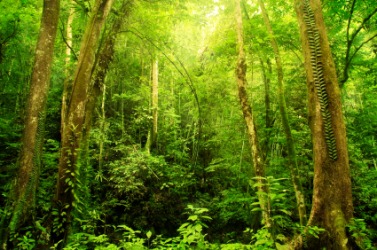 A lush rainforest.
noun
Rainforest is defined as a dense, green, moist forest with at least 160 inches of rain each year that is mostly found in the tropics.

An example of a rainforest is the Brazilian rainforest.
---
rainforest
a dense, evergreen forest, often, specif., one in a tropical region, having abundant rainfall throughout the year
---
rainforest
or rain forest
noun
A dense evergreen forest with a minimum annual rainfall of approximately 180 centimeters (71 inches). Rainforests are found chiefly in the tropics but also occur in temperate regions, where the rainfall amount is somewhat lower.
---
rainforest

---