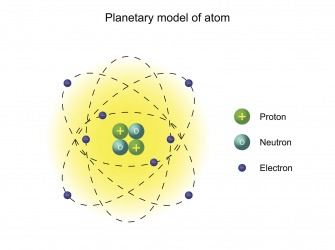 A labeled diagram of an atom in which the protons are the green circles with the plus sign.
noun
The definition of a proton is a particle with a positive charge that is in the nucleus of an atom.

An example of a proton is the single proton in the nucleus of a hydrogen atom.
---
proton
Particle Physics
a nucleon carrying a positive charge equal to the negative charge of an electron and having a mass of
c.
1.673 × 10 kg (
c.
938.2796 MeV/c,
c.
1,836 times the mass of an electron): the number of protons in an atom determines the atomic number of a chemical element
Origin of proton
Modern Latin from Classical Greek
pr?ton
, neuter of
pr?tos
, first: see proto-
---
proton
noun
Abbr.
p
The stable, positively charged nucleon, having a mass 1,836 times that of an electron and being a baryon composed of two up quarks and one down quark. The proton is a basic component of all atomic nuclei and the nucleus of the protium isotope of hydrogen.
Origin of proton
From
Greek
prōton
neuter of
prōtos
first
; see
per
1
in Indo-European roots.
Related Forms:
---
proton

Origin
From Ancient Greek πρῶτον (prōton), neuter of πρῶτος (prōtos, "first")
---