proselyte

pros·e·lyte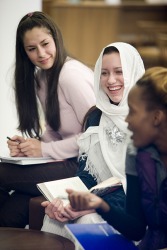 After her marriage, Marissa became a proselyte having converted from Christianity to the Muslim religion.
noun
The definition of a proselyte is a person who switches from one belief or religion to another.

An example of a proselyte is a Christian who becomes a Muslim.
---
proselyte
a person who has been converted from one religion to another, or from one belief, sect, party, etc. to another
Origin of proselyte
Middle English
proselite
from Ecclesiastical Late Latin
proselytus
from Classical Greek
pros?lytos
, stranger, sojourner (in New Testament , a convert) from 2d aorist stem of
proserchesthai
, to come from
pros
, toward +
erchesthai
, to come, akin to
orcheisthai:
see orchestra
---
proselyte
noun
A new convert to a doctrine or religion.
verb
pros·e·lyt·ed, pros·e·lyt·ing, pros·e·lytes
verb
transitive
To proselytize (a person).
verb
intransitive
To engage in proselytization.
Origin of proselyte
Middle English
proselite
from
Old French
from
Late Latin
prosēlytus
from
Greek
prosēlutos
stranger, proselyte
pros-
pros-
ēluth-
aorist tense stem of
erkhesthai
to go
Related Forms:
---
proselyte

Verb
(third-person singular simple present proselytes, present participle proselyting, simple past and past participle proselyted)
To proselytize.
Origin
From Middle English proselite, from Late Latin proselutus (proselytus, "proselyte, alien resident"), from Ancient Greek προσηλυτος (prosÄ"lutos, "newcomer, convert") (from πρό (pro, "to, towards") and λυτός (lutos)), translation of Hebrew גר (ger) in the Septuagint translation of the Torah (e.g., Exodus 12:49); also used in Matthew 23:15, Acts 2:10, Acts 6:5.
---