presentiment

pre·sen·ti·ment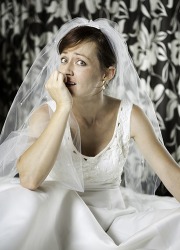 April's presentiment just minutes before her wedding was set to start made her even more nervous.
noun
The definition of a presentiment is a feeling of foreboding or an intuitive feeling about something bad that will happen in the future.

When you have a strong feeling of dread and are convinced that your wedding day is going to be a disaster, this is an example of presentiment.
---
presentiment
a feeling that something, esp. of an unfortunate or evil nature, is about to take place; foreboding
Origin of presentiment
Middle French from
pressentir
, to have a presentiment of from Classical Latin
praesentire:
see pre- and sentiment
---
presentiment
noun
A sense that something is about to occur; a premonition.
Origin of presentiment
Obsolete French
from
presentir
to feel beforehand
from
Latin
praesentīre
prae-
pre-
sentīre
to feel
; see
sent-
in Indo-European roots.
Related Forms:
pre·sen′ti·men′tal

adjective
---
presentiment

Noun
(plural presentiments)
A premonition; a feeling that something, often of undesirable nature, is going to happen.
Origin
From French pressentiment, from Middle French
---