preach

preach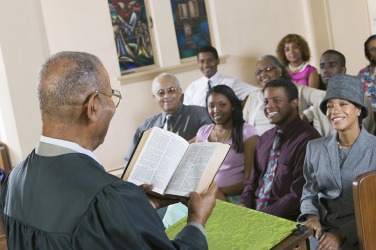 When Pastor Johnson preaches the word of the gospel, the congregation feels jubilant.
verb
Preach is defined as to give a speech or advice about morals or spirituality.

An example of preach is Martin Luther King Jr. giving his I Have a Dream speech.
---
preach
to speak in public on religious matters; give a sermon
to give moral or religious advice, esp. in a tiresome manner
Origin of preach
Middle English
prechen
from Old French
precher
from Ecclesiastical Late Latin
praedicare
, to preach the gospel from L, to declare in public, admonish from
prae-
, pre- +
dicare
, to proclaim, akin to
dicere
, to say: see diction
to expound or proclaim by preaching
to advocate by or as by preaching; urge strongly or persistently
to deliver (a sermon)
preach to the choir
to direct arguments to a person or persons who already concur
also
preach to the converted
---
preach
verb
preached, preach·ing, preach·es
verb
transitive
To proclaim or put forth in a sermon: preached the gospel.
To advocate, especially to urge acceptance of or compliance with: preached tolerance and peaceful coexistence.
To deliver (a sermon).
verb
intransitive
To deliver a sermon.
To give religious or moral instruction, especially in a tedious manner.
Origin of preach
Middle English
prechen
from
Old French
preechier
from
Late Latin
praedicāre
from
Latin
to proclaim
prae-
pre-
dicāre
to proclaim
; see
deik-
in Indo-European roots.
Related Forms:
---
preach

Verb
(third-person singular simple present preaches, present participle preaching, simple past and past participle preached)
(intransitive) To give a sermon.

A local Muslim used to preach from the Quran and hadith.

To proclaim by public discourse; to utter in a sermon or a formal religious harangue.
To teach or instruct by preaching; to inform by preaching.
practice what one preaches
preach to the choir
preach to the converted
Origin
From Middle English prechen, from Old French precchier (Modern French prêcher), from Latin praedicāre, present active infinitive of praedicō.
---