practitioner

prac·ti·tion·er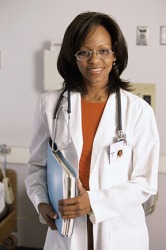 A practitioner working in a hospital.
noun
The definition of a practitioner is someone practicing a skilled profession for which special education or licensing is required.

A doctor who practices medicine is an example of a practitioner.
---
practitioner
a person who practices a particular profession, art, etc.: often in comb.: general practitioner, nurse practitioner
a Christian Science healer
Origin of practitioner
from earlier
practician
, one qualified by practice ( from Middle French
practicien:
see practice and -ian) + -er
---
practitioner
noun
One who practices something, especially an occupation, profession, or technique.
Origin of practitioner
Alteration of
practician
from
Old French
practicien
from
practiser
to practice
; see
practice
.
---
practitioner

Noun
(plural practitioners)
One who does anything customarily or habitually.
Origin
Formerly practicioner for *practicianer, from practician + -er (the suffix unnecessarily added, as in musicianer).
---