Philippines
Phil·ip·pines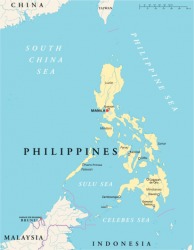 Map of the Philippines.
noun
The Philippines is a country in Southeast Asia in the Southwestern Pacific that consists of an archipelago made up of more than 7000 islands.

An example of the Philippines is a Southeast Asian country with islands including Luzon, Mindanao, Mindoro, Leyte, Samar, Negros, and Panay.
---
Philippines
country occupying a group of
c.
7,100 islands (
Philippine Islands
) in the SW Pacific off the SE coast of Asia: formerly a Spanish possession (1565-1898) & U.S. possession (1898-1946), it became independent in 1946: 115,831 sq mi (300,000 sq km); cap. Manila
Origin of Philippines
ultimately after Philip II of Spain: see Philip
---
Philippines
A country of eastern Asia consisting of the Philippine Islands, an archipelago in the western Pacific Ocean southeast of China. Inhabited by Malays and various indigenous groups, the islands were the first land in Asia sighted by Magellan's expedition in 1521 and were colonized by the Spanish after 1565. They came under US control in 1898 after the Spanish-American War. A commonwealth was created in 1935 and full independence achieved in 1946. The islands were occupied by Japan during much of World War II. Political turmoil led to the dictatorship of Ferdinand Marcos after 1965 and his exile in 1986 following the election of Corazón Aquino. Manila is the capital and Quezon City is the largest city.x
Related Forms:
Philippines
---
philippines

Proper noun
The Republic of the Philippines, a Southeast Asian country comprised of over seven thousand islands in the Pacific Ocean, composed of the Philippine archipelago.
The Philippine Islands, an archipelago in Southeast Asia, that forms the basis of the Philippine republic.
Usage notes
Do not confuse with Philippians.
(country): Normally used in the singular since it is the name of a country.
---