ribosome

ri·bo·some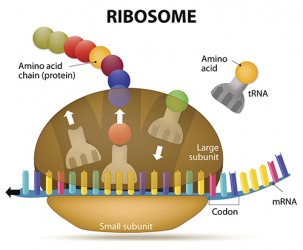 Illustration of a Ribosome
noun
The definition of a ribosome is a tiny particle made up of nucleic acids and proteins that exist in large numbers in the gel-like substance in between every cell in the body.

Facts About Ribosome

Ribosome gets its name from "ribonucleoprotein particles" and "microsomes" which are both particles inside the cell. Richard B. Roberts suggested "ribosome" in 1958.
In 1955, George Palade, a cell biologist, along with Philip Siekevitz, discovered ribosomes and identified their function as making proteins.
Ribosome refers to ribonucleoprotein particles in sizes ranging from 35 to 100S.

An example of a ribosome is one of the particles located outside of a cell that helps build proteins.
---
ribosome
a minute, spherical particle composed of RNA and proteins and present in great numbers in the cytoplasm of cells: proteins are manufactured at the ribosomal surface following genetic instructions carried there by messenger RNA
Origin of ribosome
from ribose + -some
---
ribosome
noun
A structure composed of RNA and protein, present in large numbers in the cytoplasm of living cells and serving as the site for assembly of polypeptides encoded by messenger RNA.
Origin of ribosome
ribo(nucleic acid)
-some
3
Related Forms:
---
ribosome

---