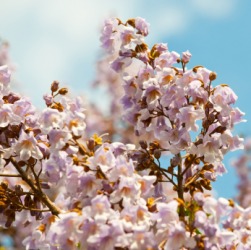 A flowering branch of the paulownia tree.
Licensed from iStockPhoto
---
noun
any of a genus (Paulownia) of Asiatic trees of the figwort family, with large, heart-shaped leaves and large, erect clusters of violet flowers; esp., a tree (P. tomentosa) having fragrant, violet flowers like those of foxglove
Origin: ModL, after Anna Pavlovna (died 1865), daughter of Czar Paul I
Webster's New World College Dictionary
Copyright © 2010 by Wiley Publishing, Inc., Cleveland, Ohio.
Used by arrangement with John Wiley & Sons, Inc.
---
noun
Any of several Chinese deciduous trees of the genus Paulownia, having large, heart-shaped, opposite leaves and pyramidal panicles of purplish or white flowers with a spotted interior. Also called princess tree.
Origin: New Latin, genus name, after Princess Anna Paulovna (1795-1865), Russian princess and queen of William II of the Netherlands.
The American Heritage® Dictionary of the English Language
, 4th edition Copyright © 2010 by Houghton Mifflin Harcourt Publishing Company. Published by Houghton Mifflin Harcourt Publishing Company. All rights reserved.