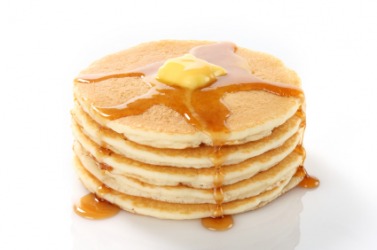 A stack of pancakes with butter and syrup.
---
pancake
noun
a thin, flat cake of batter fried on a griddle or in a pan; griddlecake; flapjack
a landing in which the airplane levels off higher than for a normal landing, stalls, then drops almost vertically
☆ pancake makeup
---
pancake
noun
A thin cake made of batter that is poured onto a hot greased surface and cooked on both sides until brown. Also called flannel cake, flapjack, griddlecake, hotcake; also called regionally battercake.
verb
pan·caked
,
pan·cak·ing
,
pan·cakes
verb
, transitive
To cause (an aircraft) to make a pancake landing.
verb
, intransitive
To make a pancake landing.
To fall flat to the ground with great force, especially to collapse in such a way that higher floors or structures fall directly on the ones beneath.
---
pancake
---