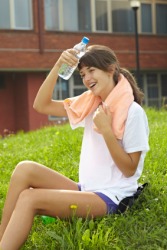 This girl has become overheated.
verb
To overheat is to get too hot.

An example of to overheat is to run on a hot day without drinking enough water.
---
overheat
to make or become too hot
---
overheat
verb
o·ver·heat·ed, o·ver·heat·ing, o·ver·heats
verb
transitive
To heat too much.
To cause to become excited, agitated, or overstimulated.
verb
intransitive
To become too hot or very excited.
---
overheat

Verb
(third-person singular simple present overheats, present participle overheating, simple past and past participle overheated)
To heat excessively
(intransitive) To become excessively hot
---