ovenproof
[uv′ən pro̵̅o̅f′]
adjective
The definition of ovenproof is cookware or materials that are heat resistant and that can be used in an oven without cracking or shattering.

A Pyrex dish that you can put in an oven is an example of an ovenproof baking dish.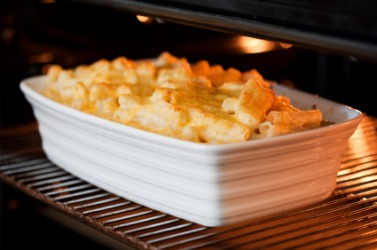 Food being baked in an ovenproof dish.
---
ovenproof
adjective
able to withstand the high temperatures of an oven without breaking, burning, melting, etc.:
an ovenproof baking pan
---
ovenproof
---
ovenproof
Adjective
(not comparable)
(of a dish) Can be used in an oven, will not be damaged if used in an oven.

Please do the potatoes in this tray, it is ovenproof.
---